Abandon all hopes of privacy?
We have identified three major problems with dating apps and are keen to solve them with you. 
Safety; the relative anonymity dating apps offer encourages users to behave crazy and all sorts of psychos to join. Thanks!
Lying; users can't resist embellishing their profile, falling into a slippery slope of time wasted and deception instead of self and mutual improvement. Romance scams are the worst form of this lying which we will eradicate as a bonus 💣!
Privacy; where users have little control over their privacy, leading to unnecessary exposure and increased risks (this blog post, yay!).
Lack of Privacy
From our own experience, and while dating apps are less and less taboo, you still have a slight twinge when you set things up on your dating app profile:
– Will your friends, see this?
– Will your mum, see this?
– Will your ex see this?
– Will your coworkers or fellow students see this?  (you might as well get them all together to help write up your profile 😂 )
You should be worried about and ask yourself what risks you might create by sharing this much information?
What kind of unwanted psycho will go through your content, and what kind of repercussions this might have?
As we were gathering feedback and interviewing dozens of users, we met with Olivia.  Olivia had a man show up at her doorstep unsolicited after finding her on a dating app.  Oliva had just used a similar username on her dating app profile and her eBay seller profile.  This man used this information to track down her address and show up at her door without any privacy breach from either website.
You always have to give to get.  It is true most of the time if not all of the time.  You need to invest in the stock market to expect a return, which comes with risks.  However, the best investors manage to reduce their risks while keeping healthy rewards.
You need to show your vulnerability to get help, create trust and build friendships.  However, you choose with who you want to share this information.
There is some level of control/choice with how you make decisions and control your risks.
There are religious dating apps, which might reassure some, but still have their share of psychos.  More importantly, they are not tailored enough or flexible enough to sufficiently fit each other's privacy requirements.
It is very reasonable to expect some more control over our dating profile visibility!
Tailor your privacy
If you live in a conservative country, you might want to start by making yourself visible only to chosen friends and the friends they choose to introduce you? Or maybe only to selected friends and all their friends? Why not their friends of friends? You can turn your privacy dial as much as you wish up to everyone on the app!
Users can use this privacy dial to start in the dating world, wanting to take things slowly; sharing their dating profile only to selected friends empowered to introduce them to other friends they trust. As they get more comfortable, they might want to change their visibility to all their friends' friends and why not their friends of friends of friends (yes, we know this made you think. 😳 it took us a while too).
You might be picky and start with just your BFF (best friend forever), brother(s) or sister(s), even just that friend who seems to have such a great network!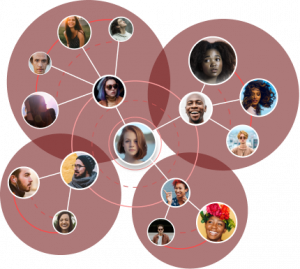 We interviewed Gary, who told us how he came out as gay and how this was progressive.  He did not share his coming out with everybody from the start but started with his closest friends and gradually moved.  We want to help everyone, including Gary and the gay community, fine-tune their dating app privacy.
Bumble famously blocked Sharon Stone as moderators thought her profile was fake. Well, Sharon, if you are reading this, we believe you will get many unproductive messages on Bumble. Why not use DearReal and keep your profile visible to your friends of friends of friends? Using DearReal will expose your profile only to the most relevant matches without unwanted attention.
Finally, you might want authenticity and considerate behaviour without being too concerned with your profile's visibility. You might be even proud of being on the DearReal app showing you're a trustworthy dater to anyone that researches you. Yep, that is also possible!
DearReal will enable you to navigate these different settings confidently and guarantee authenticity and thoughtful behaviour through social engineering. That is a feature for our next blog post!
Would you mind dropping your email in the form below and using our share buttons?  We will be emailing you as soon as we launch with a free perk we are sure you will enjoy.